HIGH QUALITY - Crafted with aircraft aluminum and powered by high quality coreless motor. This AVON wireless pen machine can separate to 3 sections, easy to disassemble, maintain and replace spare parts.

MACHINE STEADY - More power without any of the complicated stuff. Just a pen-style device with all the features you need. Powerful custom motor and advanced gear system guarantee reliable, quiet operation without any vibration. 
HUMANIZED DESIGN - User-friendly interface with only 3 buttons so that artists can spend more time in their art. Prioritizing your comfort and safety with a lightweight, ergonomic design that packs most of the weight in the center, reducing the strain in your hand.

LONG STANDBY - The lithium 

battery can

 last up to 10 hours on a single charge of 1.5 hours

 (

depends on many factors such as a 

temperature

, 

usage

 frequency, voltage, cartridge needle configuration etc.)

MODULAR CHOICE - There are 2 modules: Wireless and Traditional Version. Artists have more options to decide the module which is more convenient for them. When battery is running out, they can change to traditional version.

SAFETY COMPATIBLE - The rotary tattoo machine pen does not heat up for a long time 

of use

, low noise. Needle slot with 6 gears fit all parts of standard tattoo cartridge needles on the market. Suitable for 

professionals

 and beginners tattoo artists.



Stroke: 3.5mm
Motor Type: Coreless Motor
Motor Speed: 11000rpm/min
Battery Capacity: 1800mAh
Charge Mode: type-2 quick charge
Charging time: 1.5h (100%, 2Amp 5Volt Adaptor)
Working time: Up to 10h (Full Charge)
2 Modules: Wireless / Traditional Version
Working Voltage: 4-12V
Size: 30mm×127mm
Weight: 160g
Package 1 Includes:
1×pen machine
1×1800mA battery pack
1×charger
1×USB cable
Package 2 Includes:
1×pen machine
2×1800mA battery pack
1×charger
1×USB cable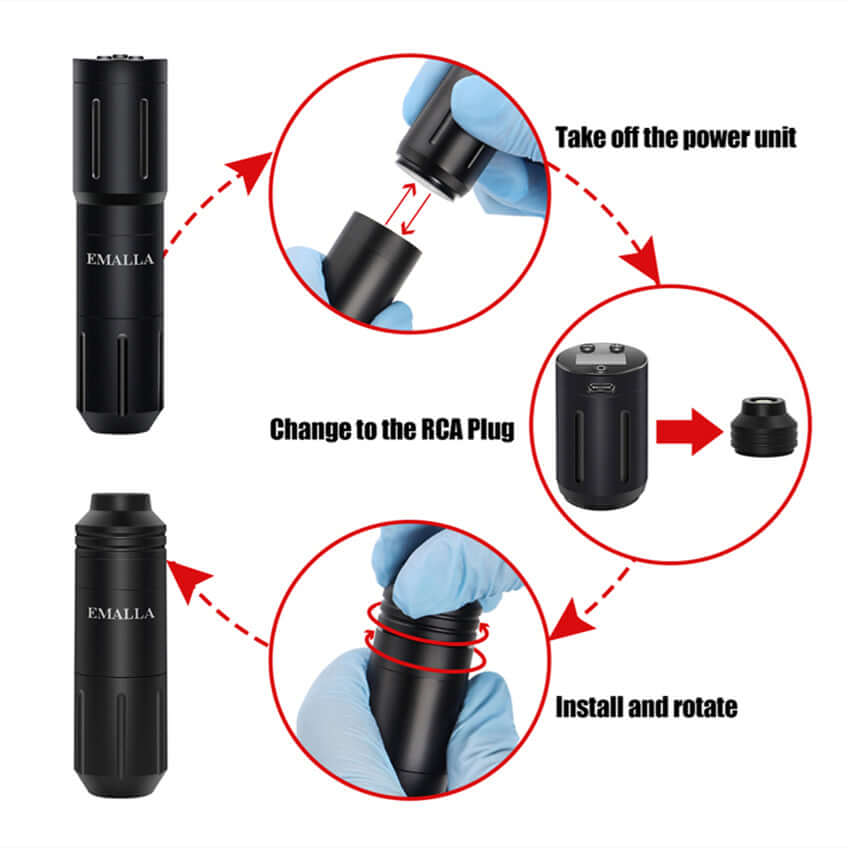 The step to change
wireless/traditional
There are 2 modules for artists to choose: Wireless and Traditional Version. When battery is running out, Traditional Version is a better choice for you.